I was recently given the lovely honor of receiving a blog award!
Thank you Shannon!
Shannon is a very talented lady with a beautiful and charming blog,
LilyHavenCollection
. I would highly recommend taking a peek... her posts are always a breath of fresh air, and her creativity truly inspiring.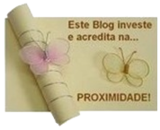 Proximidade is described as follows:
'This blog invests and believes in PROXIMITY - nearness in space, time and relationships. These blogs are exceedingly charming. These kind bloggers aim to find and be friends. They are not interested in prizes for self-aggrandizement! Our hope is that when the ribbons of these prizes are cut, even more friendships are propagated. Please give more attention to these writers!'
This blog award should be sent to your favorite eight bloggers and they, in turn should forward to eight of their favorites. You should include the text for Proximidade (above) in your announcement blog.

Here are my eight picks:

I picked these eight blogs, because whenever I read them, I feel a connection of friendship. I always relate to their tales - whether funny or touching, and somehow leave feeling a little better about life! Some of the ladies that author these blogs have been close friends for years, some I knew for a period of time during my single/college years and then later found through blogging, and one I haven't even seen for over 10 years! But each is dear to my heart, and brings goodness to my life. So thank you, you each SO deserve this award! (Too bad it doesn't come with money or chocolate, huh?)
I really do appreciate you.