I have been reading to Weston practically since he was born. He only recently started to take a keen interest in the stories, I think because he is finally starting to understand enough to make it interesting.
Well, a couple days ago I told him to pick a book and we would read it together before bed (per our usual ritual.) He grabbed the Velveteen Rabbit, which is one of my favorites. Usually he wants to turn the pages faster than I read the story, and only partially pays attention.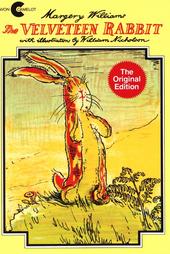 This time he sat quietly, looking intently at each and every picture. When we got to the part in the story where the velveteen rabbit is so sad that he sheds a real tear, Weston wouldn't let me turn the page. He just kept rubbing the face of the bunny on the page, and touching that big juicy teardrop. Every time I tried to turn the page, he would turn it back and softly touch the bunny face while quitely jabbering in the same tone
I
use when comforting
him
. He understood that the rabbit was sad, and he was trying to make him feel better! Jason came over and asked, "do you love the rabbit? do you want to give him kisses?"
Weston immediately put the page up to his face and kissed it. At that point, I think he was convinced that he had sufficiently consoled the poor little rabbit, and we were able to finish the story.
It was a sweet moment. I hope that moments like these will help Weston grow to love reading the way his parents do!